Description

With our sets you save -15% (compared to the individual purchase)
Transwonder bra "Olivia" and suitable silicone breast prostheses - with your desired cup.
Our special push up upholstery ensures a perfect fit décolleté effect- for optimal female body shaping.
Transwonder bra "Olivia":
colour: red, lace fabrics: black
very comfortable and adjustable straps
back closure
silicone strips for better fixing
perfect transition from possible deposits e.g. Silicone breast prosthesis (not included in the delivery), to décolleté
sewn-on prothesis pockets (correspond to the selected cup size)
machine washable
durable, high quality product "made in germany"
Incl.
silicone breast prostheses:
asymmetrical
with suggested nipple
first class, high quality material
realistic soft and super feminine feel
direct wear on the skin possible
very durable, without restriction of movement
You gt your high quality complete set "made in germany" - in your special, decorative gift box.
With this bra and prostheses feel perfekt female. Discover also the wide selection of nipples in our shop.
Other sizes, oversizes and colors on request. Complete your look e.g. with gaffs, or wigs, pantyhose, straps in our webshop.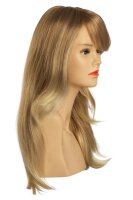 long, blond wig, length 50 cm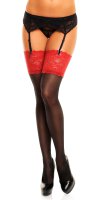 Garter stockings - transparent, glossy